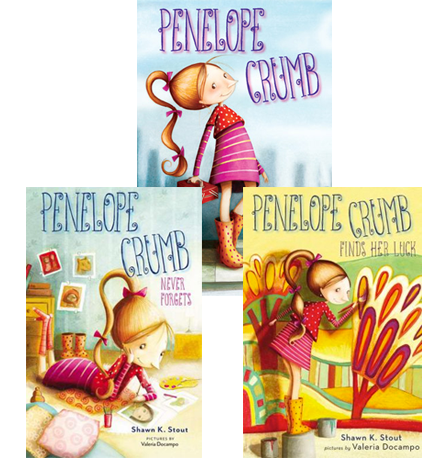 You found me.
Hello. I hope you didn't land here by mistake while searching for another Shawn Stout who is way more exciting than I am, like a ninja or the person who has the job of naming hurricanes. But even if you did find me by mistake, I won't hold it against you. Sometimes mistakes turn out to be really the best thing.
I write books. For kids. Probably because inside I will always be ten years old.
Here's some of what I've been up to lately…
The first two books in my new middle grade series, Penelope Crumb and Penelope Crumb Never Forgets, published by Philomel/Penguin, are in bookstores now! Penelope is a fourth grader with a big nose and an even bigger imagination. She does a lot of sneaking around, fibbing an eensy-weensy bit, and breaking about a gazillion of her mother's rules. Oh goodness. This Penelope Crumb girl sounds like a handful, doesn't she?
Penelope Crumb Finds Her Luck is the next book in the series, and it's available on September 12, 2013. More on that later…